Alumni Spotlight: Chandler Dixon
To celebrate #throwbackthursday we're bringing our first installment of our Alumni Spotlight segment where we dive into the lives of West Coast Ultrasound Institute graduates and see how life is continuing after graduation. We explore their careers, projects they're involved in, and their experience with West Coast Ultrasound Institute. Whether they've graduated a year ago or 15 years ago, we hope their experiences inspire you and the career you're working for. Our first installment begins with a recent graduate, Chandler Dixon, who's hunger for education has fueled him over the past couple of years.
Meet Chandler Dixon
Chandler Dixon was a 2015 graduate of the ECHO program at West Coast Ultrasound Institute at our Ontario Campus. Chandler has accomplished quite a bit since his graduation 3 years ago, including volunteering his time and knowledge to mission programs providing healthcare in foreign countries and pursuing his career at Rady Children's Hospital in San Diego, CA.
"Ask yourself 'When I'm old and sick would I want someone like me taking care of me?'"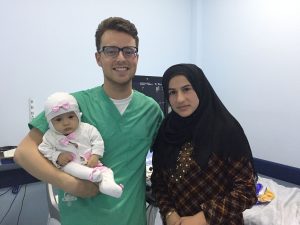 Where Is He Now?
Throughout his years, Chandler has made a point to give back to other communities through use of his knowledge and skills. He has completed several mission trips through organizations like For Hearts and Souls, the Hearts with Hope Foundation, and Samaritan's Purse where the focus was on pediatric ECHO patients. He explained their goal was to screen as many children as possible and conduct as many surgeries, as needed, for these children who otherwise would not have access to this sort of healthcare in their communities. He's been to Peru, Mexico, Cuba, and Iraq twice and plans to head to Kenya this September to continue these projects.
Along with his philanthropic efforts, Chandler had a podium presentation at this year's ASE Conference in Nashville, TN. He provided a case report over double aortic arch with bilateral aortic coarctation associated with complex atrio-ventricular canal defect and heterotaxy-asplenia syndrome. Chandler described his presentation at a conference in front of hundreds of experts in echocardiography as one of his greatest accomplishments since graduating from WCUI.
During his employment at Rady's Children's Hospital in San Diego, CA he has begun working on a 3D ECHO program for heart disease and he has been working on a few journals on abnormal case studies that he hopes to have published in the near future. His experience proves that even after graduation your education never ends, especially in the medical field.
How Has West Coast Ultrasound Institute Shaped His Career?
"All the tools are there. Just pick up a fork and eat!"
Chandler Dixon described his time at West Coast Ultrasound Institute as the foundation of his knowledge in ECHO. He explained that WCUI gave him the building blocks necessary to push, go above and beyond, and become really involved in his education.
For Chandler, WCUI provided the tools he needed to succeed. In his own words, "All the tools are there. Just pick up a fork and eat!"
When we asked Chandler Dixon what advice he had for current and future students at WCUI he said it best:
"If you don't care about people, don't be an ECHO tech. Money is not worth it if you don't care. If you want to make a difference in lives of patients and your community then do it! If you don't, be careful because you could get into something pretty gnarly. [laughs] Study really hard. Not just for yourself, but the people you're going to help. Ask yourself 'When I'm old and sick would I want someone like me taking care of me?'"
For more information on the organizations Chandler worked with during his mission trips and donate to their causes, visit their websites here: For Hearts and Souls: http://forheartsandsouls.org/ Hearts with Hope Foundation: http://www.heartswithhope.org/home/ Samaritan's Purse: https://www.samaritanspurse.org/